Hyundai Accent Owners Manual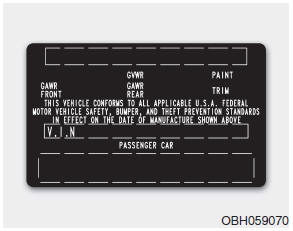 The certification label is located on the driver's door sill at the center pillar.
This label shows the maximum allowable weight of the fully loaded vehicle. This is called the GVWR (Gross Vehicle Weight Rating). The GVWR includes the weight of the vehicle, all occupants, fuel and cargo.
This label also tells you the maximum weight that can be supported by the front and rear axles, called Gross Axle Weight Rating (GAWR). To find out the actual loads on your front and rear axles, you need to go to a weigh station and weigh your vehicle.Your dealer can help you with this. Be sure to spread out your load equally on both sides of the centerline.

WARNING - Over loading
Never exceed the GVWR for your vehicle, the GAWR for either the front or rear axle and vehicle capacity weight. Exceeding these ratings can cause an accident or vehicle damage.You can calculate the weight of your load by weighing the items (or people) before putting them in the vehicle. Be careful not to overload your vehicle.
Do not load your vehicle any heavier than the GVWR, either the maximum front or rear GAWR and vehicle capacity weight. If you do, parts, including tires on your vehicle can break, and it can change the way your vehicle handles and braking ability. This could cause you to lose control and crash. Also, overloading can shorten the life of your vehicle.
The label will help you decide how much cargo and installed equipment your vehicle can carry.
If you carry items inside your vehicle - like suitcases, tools, packages, or anything else - they are moving as fast as the vehicle. If you have to stop or turn quickly, or if there is a crash, the items will keep going and can cause an injury if they strike the driver or a passenger.

WARNING
Overloading your vehicle can cause heat buildup in your vehicle's tires and possible tire failure that could lead to a crash.
Overloading your vehicle can cause increased stopping distances that could lead to a crash.
A crash resulting from poor handling, vehicle damage, tire failure, or increased stopping distances could result in serious injury or death.

CAUTION
Overloading your vehicle may cause damage. Repairs would not be covered by your warranty. Do not overload your vehicle.
Using heavier suspension components to get added durability might not change your weight ratings. Ask your dealer to help you load your vehicle the right way.

WARNING - Loose cargo
Items you carry inside your vehicle can strike and injure occupants in a sudden stop or turn, or in a crash.
Put items in the cargo area of your vehicle.Try to spread the weight evenly.
Never stack items, like suitcases, inside the vehicle above the tops of the seats.
Do not leave an unsecured child restraint in your vehicle.
When you carry something inside the vehicle, secure it.
Do not drive with a seat folded down unless necessary.










© 2023 www..hyundaiaccentmanual.com. All Rights Reserved.